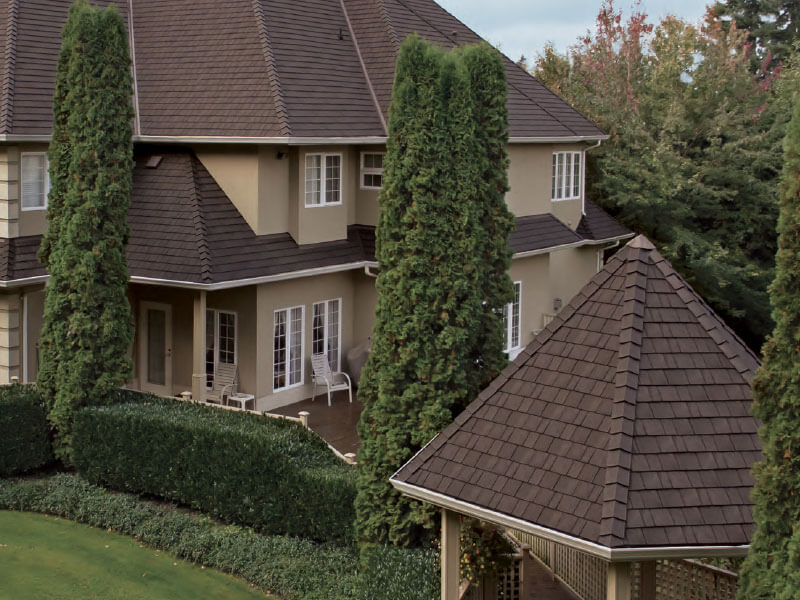 February 25, 2020
Euroshield Roofing
In 1999, Mr. Henry Kamphuis thought of an ingenious way of turning rubber tires in the landfills into great looking and durable roofing products called the Euroshield Roofing System. Of course, his magic did not just happen overnight. It took him and a group of dedicated people more than a decade to run countless tests to achieve the Euroshield rubber roofing system today.
Environmental Impact
The rubber panel's key ingredient is recycled crumb rubber, which accounts for approximately 70% of the roofing panel. It contains other ingredients such as compatibilizers, stabilizers, UV inhibitors, and colours. In total, Euroshield roofing products contain 95% recycled content, and both the rubber panels and scrap metal materials generated from the manufacturing and installation process can be recycled again back into more Euroshield roofing products.
Rubber roofing is a significant end-use for recycled rubber. For example, an estimated 300 million tires were scrapped in 2009 in the United States. More than 500 million pounds of ground rubber was used to make moulded and extruded products. Ground crumb rubber of the type used to manufacture rubber roofing represented more than 26% of scrap tire disposition. On a smaller scale, Euroshield products used over 50% of Alberta manufacturers' crumb rubber in 2015.
Euroshield is Tough
Euroshield roofing is made to be tough. For instance, the Beaumont Shake panels can sustain 2" ice balls firing at 295 kph (or 3" ice balls firing at 222 kph) with no damage. This kind of toughness has granted all Euroshield products a UL 2218 Class 4 impact resistance rating – the highest rating available. Most asphalt shingles' impact resistance rating is below Class 3, and they are most likely to be damaged during a hailstorm.
In 2020, Euroshield introduced the first Hail Proof roofing product - Vermont Slate HP, which is warrantied hail proof for any size hail for the first 20 years, followed by 30 additional years of 2" hail damage warranty coverage. 
World-famous St. Andrews Golf Course and Hotel decided to use Euroshield. 
Euroshield is a Lifetime Roofing System
Unlike wood shakes and asphalt shingles, Euroshield rubber roofing is nonporous. Rubber panels do not absorb moisture, and they will not rot, peel, crack or break down. Like the tires on a vehicle, rubber panels can withstand extreme temperature fluctuations without incurring damage. Once they are installed correctly, the Euroshield rubber roofing system will last you a lifetime.
Life expectancy comparisons:
| | |
| --- | --- |
| Wood roofs | 8 – 25 years |
| Asphalt shingles | 15 – 25 years |
| Euroshield | 50 + years |
Style Profiles
Euroshield rubber panels do not look like rubber tires. They are designed to accurately replicate the authentic look and texture of cedar shakes and slates. Both designs come with a thicker profile (3/4" at the butt edge) and a light profile (1/2" at the butt edge) at a much lower cost, typically between asphalt shingles and metal, cedar and slate roofs. They come in three colours: black, brown and grey. In 2020, a new driftwood colour is introduced and can be used on certain profiles. 
What can we do for you?
If you are interested in the product and would like to know more information, please contact us. We are more than happy to schedule a free, no-obligation consultation and provide a quote for you.