Roof Repair
When was the last time you got your roof examined or repaired by a professional? Roof repair and maintenance have become crucial since roofs were invented. Just like our cars and other machinery,they require maintenance, roofs also require the same.
Most people don't know that annual or often minor roof inspections or repairing is a necessary step in maintaining your home just like good housekeeping. Periodical maintenance and time to time roof repairs avoid expensive roof replacements.
The Team at Safe Roofing has been installing, repairing, and maintaining roofs for many years in Edmonton, Alberta, Canada. We are one of the top Edmonton roofing companies in Canada. We always ensure good roof repair services and ensure to guide our clients about only necessary roof maintenance.
Whether you're missing shingles or need to replace exterior finishing, the roofing professionals in our team can help. They can repair nearly any roof, from commercial properties to residential, from asphalt to shingle roofs.
Numerous ways to extend the lifespan of your roof are:
Trimming nearby trees.
Maintaining your gutters.
Ventilating attics.
Removing dirt and debris from drainage holes.
Repairing even minimal damages (e.g., small leak) instantly.
Reasons for Roof Damage
There are various reasons for roof damage, chiefly being roof's age, extreme weather such as storms and hail. Also harsh weather like heavy wind storms often cause shingle blow-offs that are especially cruel to roofs and can be the biggest cause of roof leaks or even wear and tear of roof parts. Other considerations such as long term UV from the sun can damage the shingles significantly, and other than weathering, poor workmanship can result in roof leaks.
However, carelessness and neglecting behavior towards roof maintenance can also cause big roof damage. Putting too much weight on roofs can also cause damage. That's why it is necessary to observe the roof carefully to look for small damages before they get out of control.
Common signs of roof damage
Roof damages can have various signs depending upon the roofing systems. However, some common signs of roof damage are:
damaged or displaced shingles

Cracks around roof opening or other areas

Water stains on interior walls and windows

Moisture on exterior finishing paint area

Visible sunlight and leaking attics

Blockage at drainage holes

Higher than normal energy bills
Safe Roofing Company
Safe Roofing Company prides itself in providing the best Edmonton roof repairs services. Our team is well trained and skilled in providing all roof maintenance and repairing services. Roof maintenance depends highly on the roofing company you choose for the project. Therefore, DON'T RISK YOUR ROOF INVESTMENT to the wrong contractor.
Our services include:
We do not settle for less than perfect. Our primary goal is to provide durable and trustworthy roofing services both commercially and residentially. However, our core service is roof repairing, such as leaky roofs. We aim to provide the best services with a warranty program. Most of our roofing services come up with a warranty program to ensure the reliability of the roofing system.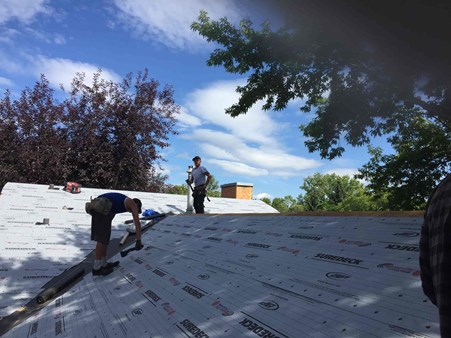 Best Edmonton Roof Repairs
Don't get stressed with your leaking roof because we are here to assist you in getting the best repairing done in Edmonton, Canada. Get satisfaction and comfort with high-quality roofing contractors.
Roof leaks got you down? No worries, We're here for you!
No matter, we the average Edmontonians are living busy lives these days. We are bound with work, family time, hanging out with pals, and everything else in-between. With all this hustle going on in life, you might not have time or energy to waste on more significant home maintenance issues such as a leaky roof.
Let our Team help you ease this burden with our efficient and reliable roofing services!
Our Roof Repair Includes:
We do not offer any free sessions for roof repairs. Our roof repair ranges around $350 for average shingle blow-offs and fascia repair. As for Chimney repairs and Chimney flashings, we cost around $600. You can contact our Team to get correct estimates on your roof repair.
Our roof repairing services include:
Highly trained, well-tested expert team of roof technicians.
Honest feedback on the reason behind the leaky roof.
Access to explainable pictures of the issue and content assistance on repairing.
Full explanation on the type of roof repair you require.
Workmanship warranty.
A warranty program to ensure long-time roof stability.
Don't let your leaky roof problem get out of hand!
You might find roofing companies in the market claiming to provide roof repair at a minimum price. However, remember not to upgrade the issue into a bigger problem by hiring a cheap roofing technician "the bitterness of quality far outlasts the sweetness of the price". Therefore, get high-quality work in the first place to internally get rid of leaky roof problems.
Get peace of mind and leave your roof leaks our problem!
Step 1: Contact us through email or call and talk to an expert right away or alternatively visit our website, you can also click "Contact Us or Get A Quote" on our website to get in touch.
Step 2: Simply email Safe Roofing pictures of the issue and in most cases quotes can be derived from the images sent (some repairs might require an attic inspection and onsite visits at a cost).
Step 3: Get comfortable as you will never again have to worry about a roof repair.
Providing you and other homeowners in Edmonton, Alberta, Canada, and surrounding areas with the best roofing services!
Roof Replacement
Get the appealing roof you deserve!
Make your neighbours envious of your beautiful roof, but when is it the right time for roof replacement?
Your roof is more than 16 years old.

Your roof has signs of damage after a storm.

Your roof shows signs of poor quality workmanship.
The Most Important Day To Your Roof Is The Day It Was Installed!
You need to hire a roofing contractor with the tenure, expertise and attention required for a roof replacement project. The last thing any person might desire is to have his roof investment ruined due to the wrong choice of roofing contractors. See what our Team can do for you!
What do you get from our Roof Repair service?
Certified roofing contractor by major shingle manufacturers.

High-quality work package in line with efficient and reliable labor.

Lifetime manufacturer warranty on almost every project or service.

First consultation is free to let you decide what's best for your roof.
Peace of mind and comfort knowing you will never have to worry again about roof repair.
Types of Roofing Material
We provide a wide range of roofing materials so that our clients can purchase roofs according to their budget and requirements. Here are a few top roofing materials in the market!
Asphalt Roofing
The lasting look of an asphalt shingles roof is all you need!
You can be a comfort if you have chosen asphalt roof repair for your home, as it's one of the most common roof types used by roofing companies in Canada and across North America.
Asphalt roofing has become trendy for over decades. Its popularity is due to its reliability, stability, and affordability. Even when other materials become popular for a few years, asphalt remains an all-time trustworthy and trendy material for most homeowners in Canada.
Three types of asphalt shingles
3-tab Asphalt Shingles
It is the cheapest type of asphalt roofing. 3-tab Asphalt shingle got its name from three tabs on each strip. These shingles lay flat and provide a sleek and maintained view.
Note: Safe Roofing no longer uses 3-tab asphalt shingles for roof replacement projects. The only time we use them is on a roof repair that has 3-tab shingles on already.
Dimensional Asphalt shingles 
(Also called "laminated asphalt shingles", "architectural shingles" or "fiberglass shingles")
This type of Asphalt roofing is widely popular in the market due to its wide range of colors and variety. It can give you the sleek modern look you want for your roof.
Luxury Asphalt shingles 
(Another name for Luxury asphalt shingles is called "designer asphalt shingles" They are different from laminated shingles because they come with unique designs that resemble slates or cedar shakes.)
Luxury or premium asphalt roofing is similar to premium roofing systems such as slates, there are a couple of designer asphalt shingles: Malarkey Windsor and IKO Armourshake to name some of the best. Both of these brands are very heavy duty and quite thick. 
These Luxury style are the most expensive type of asphalt roofing yet are considered the most attractive among the other types.
Benefits of Asphalt Roofing
Asphalt roofs are highly affordable.

These have easier roof installation and roof repair processes.

Around 16 to 30 years of lifespan, depending upon the type of asphalt roofing and roofing company your choose.

A variety of colors and options are available.

Minimum roof maintenance is required in the case of asphalt residential roof replacement.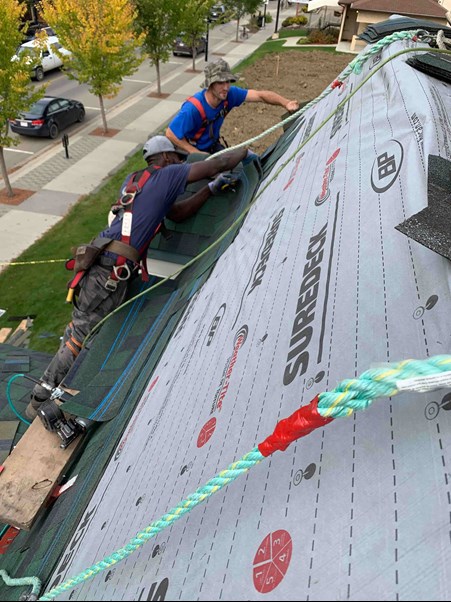 Standing Seam Metal Roofing
(*note: Safe Roofing does not provide metal roofing)
The glass look of standing seam metal roofing systems!
Withstanding a seam metal roof, you will never have to worry again about roof repair or roof replacement. Standing seam metal roofs are also growing in popularity in the market. While asphalt has dominated the market for decades, metal is also working to catch up in the long-term race. Standing seam metal roofs get their most popular due to their versatility and sophistication.
You can get it for a complete roofing system or some specific areas. Standing seam metal roof replacement is a great idea if you have screened in flat areas, porches, or garages. Because it gives luxurious vibes to your roofing system, select a standing seam metal roof for a luxurious and sleek look!
Benefits of standing seam metal roof
Quick versatility and durability of the material.

Longest lifespan of over 50 years (guaranteed).

It can endure extreme weather and doesn't crack or warp.

No roof maintenance is required for this roofing material.

Standing seam metal panels are strongest while being lightweight among other materials.

Reflective coating quality saves money on your electricity bills.

Cedar shakes Roofing
Cedar shake roofs make your home stand out in your neighbourhood!
This roofing material raises your home's curb appeal and makes heads turn to admire this beauty. It gives your home a warm and sleek look with long-lasting protection and strength. It is one of the most vintage and aesthetically styled materials many roofing companies favor. It is popular because it never fails in grabbing the attention of the people passing beside the house.
While it's much more expensive than asphalt or standing seam metal roof, still its beauty and appealing look are worth the money. Contact us to if a new cedar shake roof is right for you.

Benefits of Cedar Shakes Roof
Long-lasting attractiveness.

The lasting lifespan of over 30 to 50 years.

Timeless strength and reliability.

Looks great with copper shades paint.
Copper Roofing
(*note: Safe Roofing does not provide copper roofing)
Long-lasting and attractive roof material used since 1990!
copper has been used for years as a durable, timeless, and fancy roofing solution. It has been known as a trusted and beautiful roofing choice for centuries.
Because of this, copper has become one of the most popular types of roofing in the best roofing companies today. Copper provides reliable and strong roofing for residential and commercial clients across Edmonton, Canada.
Benefits of Copper Roofing
Sturdy yet lightweight compared to other roofing choices.

Doesn't contract or expand with rising or falls in temperature.

Corrosion resistance.

Requires minimal maintenance.

Lasts for decades and even longer if properly maintained.
Membrane Roofing 
(*note: Safe Roofing does not provide membrane roofing)
Used since 1990 due to low slope roofing! There are a variety of repairing companies that can help you but Safe Roofing does not offer this type of repair or replacement.
Low slope roofs aren't like other roofs. They have a slope ratio below 2:12. Membrane roofing means that the roof is less than two vertical units (inches or feet) up for every 12 horizontal units out. These are not very steep. And if you want shingles on it, then, of course, you've to rely on other materials.
That's why you have to hire our expert team of roof technicians with the knowledge and experience necessary to care for your low-slope roof. Whether you have a commercial space or your own home, we're confident we can care for your low-slope roof!
Rubber Roofing
Euroshield is a permanent and long-lasting roofing system!
A rubber roof is also known as an EPDM roof. EPDM is a commonly used roofing system for flat roofs. However, this type of rubber roof should be distinguished from the Euroshield rubber roofing system. Euroshield rubber roofing system is for sloped roofs, and they require a minimum roof pitch of 3/12. 
Benefits of Rubber Roofing
Resembles slate and cedar shakes 

Over 50 years of lifespan

Can endure harsh weather

(especially true in Canada's long and cold winter)

Do not crack or wrap

Provide strong wind resistance (can resist up to 250 KM per hour)

up to 95% recycled material

rigid and reliable

Limited hail proof warranty

(

Only the Vermont Slate HP is 100% hail proof. All other Euroshield products are Class 4 Impact Resistant.)
How to get your gorgeous new roof?
Roof installation is not a big hustle with our professional team. Moreover, pricing is also not much higher. You can contact us to get a rapid roofing pricing range. Follow these steps to get your beautiful new roof installed:
Step 1: Call us or fill out the "Get A Quote" form on our website.
Step 2: your roofing advisor will schedule a suitable time for an assessment and consultation.
Step 3: You will receive your quote / proposal, go over it with your roofing advisor, and communicate if you have any questions or concerns.
Step 4: schedule your roof replacement.
Step 5: Stay comforted, knowing that you will never have to worry about your roof again!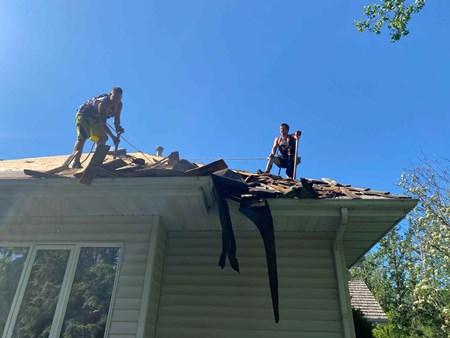 Roof Maintenance
Protect your roof and home!
Let us maximize your roof investment with high quality and proper investment. The advantages of choosing our team as your roof maintenance advisor are:
Annual roof inspection & Attic analysis
We will observe the roof inside and out to detect any damage initializing in the roofing system. Our thorough roof inspection ensures your and your roof investment safety. We also look clearly into the critical components of the roof to advise the maintenance tips accordingly.
Another advantage is that we will also clean your skylights and remove all dirt and debris from your roof so that you don't have to worry about skylights cleaning.
Priority Guaranteed Appointments
If you require any emergency services, we are here for you. You just need to call us to move straight to the front of the waiting line!
Lifetime Repair Guarantee
Roof repair services by our team have a lifetime guarantee as we don't settle for less than excellent repairing outcomes.
Gutter Cleaning Services
Rain gutters and downspouts will only function efficiently when they are free of dirt and leaves. When the blockage occurs, debris and leaves get stuck inside the drain outlet. Rainwater will fill the gutters, causing corrosion. In some cases, the weight of the water and debris will eventually pull the gutter loose, causing overflow and damage to your shingles, roof structure, and even the home's foundation.
You can prevent these problems by cleaning your gutters twice a year in spring and autumn. But do you not get time to clean the gutters? No worries, as we also provide gutter cleaning services in commercial as well as residential areas.
Gutter Replacement
Our gutter specialists will keep your drainage systems in good working order. From inspections to repairs and replacement, We have the solution to every gutter problem.
5" & 6" gutter
Multiple options to choose from
Custom colors available
Durable installation
The average lifespan of eavestrough is over 20 years.
Skylight Replacement
Installing, replacing, or repairing a skylight requires attention to detail and experience. It's important to hire a roofing company that has both these traits. See how we can help with your skylight needs. 
Curb-mounted skylight is common among most Edmonton homeowners. A curb-mounted skylight has a 1-1/2" wide, insulated, and water-resistant wood curb. Their high curb can also protect the skylight and the roof from being covered by snow during the winter. 
Most curb-mounted skylight incorporates an aluminum base frame. The aluminum base frame is durable and provides insulation values in winter. The doom-shaped lid comes in different colors as well as is useful in shedding snow off during cold climates.
Contact us to get the price range for skylight replacement!
Sun Tunnel Skylight
Compared to other skylight varieties, the sun tunnel skylight is much smaller. These are the best for areas where regular skylights can't fit. The smallest size Sun tunnel skylight will do its job perfectly within 150 square feet. However, a larger place will require more than one sun tunnel skylight or larger skylights.
It isn't easy to insulate the sun tunnel so that homeowners may experience moisture during the winter months. However, condensation due to sun tunnel skylights can cause water droplets. Water droplets on the glass are easy to clean and should not be confused with roof leaks.
Contact us now to get your skylight replacement!

Emergency Roof Leak Repair
Roof leaks often appear at the most inappropriate times!
Our team can provide quick roof leak repair even during harsh weather. Working with us, you don't have to worry about emergency roof leaks as our expert team of repair specialists will fix the job right the first time.
To book your emergency roof leak repair, call us now!
Why are roof leaks emergencies?
Roof leaks are no fun and are considered the biggest emergency in household repair issues. This is due to the reason that water gives the most expensive damage to your homes. Similarly, roof leaks come up with maximum roof damage. As most houses in North America are constructed with wood, water stains or leaks lead to mold growth. The mold slightly damages your home's strength by eating away the cellulose.
Since rain and snow are common sources that can expose your house to water or roof leaks. Therefore roof leak repair is crucial to be solved immediately.
Reasons for Leaky Roofs
The obvious reason for roof leaks is some kind of opening or crack in the roof. However, these openings come up in an entirely different matter. The roof leaks initially cause minimal damage by dripping drops of water one by one. But as water corrodes any material, soon the opening will erode, and the material will break down, leading to greater damage.
Roof leakage also causes broken flashing. However, sometimes it might be due to displaced shingles. You should keep checking the maintenance of your shingles to avoid roof leakage. Thus, a constant roof inspection is the best way to avoid roof leak repair costs. A ten-minute check in the attic every six months is enough to avoid a lot of damage. In this way, you can check for tiny leaks before they would even be noticeable inside your home. Contact us today to ask about how else you can help maintain your roof shingles as a homeowner.
Replacement
Whenever you decide to change your roof vents, it is recommended to choose the best one. It is recommended to choose roof vents that offer protection against harsh weather. Various vents are available that have been specifically designed for areas with high snow loads. Such types of vents can be guaranteed to keep you dry and cool in the summer.

Repair Vs. Replacement
Whether you want roof repair or a complete replacement, it greatly depends on the roof's age and the seriousness of the roof damage. If the damage is bigger, then roof repair might not be sufficient. In such a case, you should go for re-roofing, assuming that severe damage might lead to re-roofing in the near time. However, less severe damages can be solved with minor roof repairs such as new shingles or small patchwork.
In case of minimal damages, it is better to avoid the cost of new roof installation. Roof repair allows your roof to live longer without costing any re-roofing soon. Although, sometimes, a part of your roof may require installation while the other part doesn't. So, you can also go for a partial roof replacement to save money and time.
Safe Roofing, the trusted Edmonton roofers, can handle any job. You can count on our team to provide rapid roofing, quality residential roof repair, from metal roof damage to working around solar panels. Contact us today to find out more about our services or request service.
Different Types of Roof repair
Fascia Replacement
Fascia regards the lower part of the roof that is the best defense against damaging elements. If your fascia has begun to mold or cracks appear in it, then you need professional help. You can contact our highly recommended rapid roofing company to get suggestions on fascia replacement. Post-inspection, our team will show you the replacement plan and elaborate estimate costs. We guarantee a fair price among most companies in Edmonton, AB, Canada.
Shingle Replacement
Shingles may also require replacement in a few cases, such as age or cracks. Broken shingles are the easiest to get noticed. Because shingles provide an attractive factor to your roof. Therefore, minor damage to shingles is a great deal. This makes a big difference between shingle roofs and asphalt roofs.
Contact us to get our highly recommend rapid roofing commercial services (and residential services).
Gutter Maintenance
Gutter maintenance is also a crucial part of avoiding roof repair or replacement. Gutter blockage can also lead to bigger damages. However, cleaning gutters may sound hectic to you, but in order to enjoy a long-lasting roofing system, you have to take care of home gutters as well.
All you require is to make sure that the gutters are free of debris so that no extra water may build up around areas highly exposed to a leaking roof. If you can't get time to clean gutters, or require gutter replacement, call us to get a free estimate.
Flashing Repair or Replacement
Convergences of your rooftop, drain lines, valleys, and corners where one piece of the rooftop gets together with another are the most well-known regions for roof leaks. Roof flashing installation and repair will keep water from gathering in one spot and entering the creases in your shingles and where the basic wood of your home combines.
Over the long haul, the creases that fasten your flashing to your roof, chimney stack, or other crossing bits of your roof can break down and permit dampness in behind the flashing. Harsh weather conditions can likewise harm your flashing and require roof flashing repair. Assuming that your roof has no flashing, harmed flashing, or it's essentially was not introduced as expected, it can expose your roof and your home to water damage.
If your roof's flashing is damaged beyond repair or you have areas that require flashing, the roofing experts through our website can install new flashing to restore the roof's waterproof seals.
Looking For A Free Consultation? Contact Us Today!

Roof Repair Tips
Here are some tips to help you in roof repair:
Trick to find difficult leaks
If a hole is hard to track down, enroll an aide and go up on the rooftop with a nursery hose. Begin low, dousing the region simply above where the hole shows up in the house. Disconnect regions when you run the hose. For instance, put water on the declining side of a fireplace first, then each side, then the top on the two sides.
Have your helper stay inside the house to tell you when the dribble will appear. Allow the hose to run for a long time in one region before moving it up the rooftop somewhat farther. Along these lines, the dripping becomes apparent, uncovering the leakage region.
Fixing Roof Vents
Check for broke lodgings on plastic rooftop vents and broken creases on metal ones. You may be enticed to toss caulk at issue, yet that arrangement won't keep going long. There's actually no fix other than supplanting the harmed vents. Likewise, search for pulled or missing nails at the's base edge. Replace them with elastic screws.
Generally speaking, you can eliminate nails under the shingles on the two sides of the vent to pull it free. There will be nails across the highest point of the vent as well. Normally you can likewise work those free without eliminating shingles. Screw the base set up with elastic screws. Press out a globule of caulk underneath the shingles on the two sides of the vent to hold the shingles down and to add a water obstruction. That is a lot simpler than renailing the shingles.
Fixing Step Flashing
Step flashing is utilized along with walls that cross the roof. Each short part of the flashing channels waters over the shingle easily. If the flashing rusts through or a piece comes free, water will run right behind it and into the house. Rusted flashing should be supplanted. That implies eliminating shingles, prying siding free, and afterward eliminating and replacing the continuous flashing. It's just straightforward. However, at times a roofer may forget to nail one set up, and it, at last, descends to uncover the wall.
We can proudly say that we are known as the best roofing company in the neighbourhood as we focus on providing a high-quality roofing experience in our commercial as well as residential services. Contact us today to get a free estimate on your roofing project!